On behalf of our faculty, staff, and students, welcome to the Department of Mathematics at the Catholic University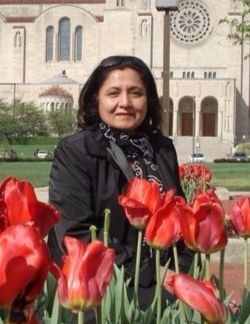 of America.
Mathematics is essential to many different fields, including physics, chemistry, engineering, business, finance, and even to law and medicine.  Most importantly, it plays a central role in developing our abilities to think logically and abstractly and by improving our skills at quantitative reasoning and critical thinking.  As such, learning mathematics benefits all aspects of our lives, and is becoming more crucial in our technologically advancing society. 
Currently the department has an active group of 13 full time faculty members engaged in several areas of research including algebra, analysis, graph theory, differential equations, and statistics.
You are invited to explore the manifold opportunities of having a degree in mathematics from Catholic University. We offer courses leading to BA/BS in Mathematics, BS in Mathematics/Secondary Education, BS in Mathematics and Physics, MS in Mathematics, 4+1 BS/MA in Mathematics Secondary Education, and 4+1 BA/MS or BS/MS in Mathematics. We also offer a minor in Actuarial Sciences and a minor in Mathematics.  
Our goal is to ensure that our students are challenged and motivated, and upon graduation are well prepared for industry jobs, teaching careers, and graduate-level work in mathematics and related areas. This is done through small class sizes that allows for more individualized attention, and by having a variety of academic support services, which includes a Math Center for additional help through student tutoring. With a hands-on approach to advising and monitoring our students's progress, many of our math majors complete a second major or obtain a minor in areas like actuarial science, computer science, finance, music, and communication. Our students are actively encouraged to engage in undergraduate research; our majors have given presentation at undergraduate conferences, at undergraduate and graduate seminars, and at Catholic University's annual Research Day. Our graduates have gone into teaching, industry, federal government, law enforcement, actuary, law, medicine, accounting, finance, non-profit organizations, banking, and investment. 
Dr. Kiran Bhutani
Ordinary Professor and Chair